Central Plains Severe Weather Symposium

April 7, 2018: Noon - 4:30pm >> LINK to Event Poster

Nebraska Innovation Campus Conference Center Auditorium

Free and open to the public!


NOON to 12:30:
Time Lapse Storm and Tornado videos

Photo: Walker Ashley, time lapse of an incredible lightning display

____________________________________________________________

12:30pm -1:30pm:
Presenter: Dr. Walker S. Ashley

"Tornadoes in a Changing World, Recipe for Disaster"

Walker Ashley

Walker Ashley
AFFILIATION: Professor, Department of Geographic and Atmospheric Sciences, Northern Illinois University
ABSTRACT
Recent extreme weather events reveal that we are increasingly vulnerable to weather hazards despite advances in science and technology. Specifically, catastrophic tornadoes and tornado outbreaks in the past decade have produced tens of billions of dollars in damage and killed hundreds of people. In this presentation, Dr. Ashley will assess the atmospheric ingredients necessary to produce tornadoes, how those extreme events interact with society to create disasters, and what we can expect from these hazards in the future in the face of rapid environmental and societal change.
BIO: Dr. Ashley is an atmospheric scientist in NIU's Department of Geographic and Atmospheric Sciences, where he teaches courses in meteorology, climatology, and disaster science. His research focuses on thunderstorm climatologies, understanding how societal vulnerability contributes to weather-related disasters, how cities influence thunderstorm formation, and how weather affects transportation systems. He has been storm chasing since he was a graduate student at the University of Nebraska in the 1990s and has an affinity for time lapsing all forms of skyscapes.
____________________________________________________________

1:30pm - 2:15pm:
Presenters:

Ben McMillan Field reporter for Weather nation and




Tony Laubach, Meteorologist and storm Chaser, KAKE TV



"Twenty Years of Storm Chasing in a Changing Landscape: Stability in Storms and Service"

2:15pm - 2:30pm:
Presenters: Ben McMillan Field reporter for Weather nation and
Tony Laubach, Meteorologist and storm Chaser, KAKE TV
"TWISTEX Tribute, Celebrating the life of Tim Samaras: The Future of
chasing and what we hope people do to stay safe/ responsible "

Ben McMillan reporting for Weather Nation TV

Ben McMillan, Weather Nation TV

Tony Laubach photographing a tornado

Tony Laubach
AFFILIATIONS:
Ben McMillan, Field Reporter, Weather Nation
Tony Laubach, Meteorologist, storm chaser KAKE TV
ABSTRACT:
Tony will talk about the fad of storm chasing and why most chasers come and go in the field. Tony will talk about why he and Ben have survived and have been able to make a career of this work.
Main segment 1: Ben's career and the work he has done, storms he has covered, as well as his work as an EMT in disaster zones.
Main segment 2: Tony will talk about his career and work
Main Segment 3: TWISTEX Tribute to Tim Samaras by both of us
Closing: The Future of chasing and what we hope people do to stay safe/ responsible
BIO Ben McMillan
Ben McMillan started storm chasing during his high school years growing up in Pella, Iowa and it has stuck with him ever since. Focusing on a career in public service, Ben has worked in law enforcement, for several hospitals, and currently works in the Fire/EMS system in Phoenix, Arizona. After witnessing the many severe storms growing up in rural Iowa, Ben chose to combine his interests of public service and weather by becoming a professional storm chaser and journalist. While enrolled at Iowa State University, Ben co-founded Iowa State's student news program "Newswatch 18" and frequently contributed weather videos to the show. In 2008, Ben tracked and witnessed Iowa's last EF-5 tornado, the strongest type of tornado that can be recorded by scientists. Ben was credited as being one of the initial storm spotters that tracked the storm, and helped alert the town of Parkersburg a tornado was coming its way. Ben also tracked the last EF5 tornado recorded nationwide in Moore during the May 2013 tornado outbreaks in Oklahoma.
Ben worked for KCCI television in Des Moines before joining WeatherNation, and has been featured in several Emmy-nominated and/or Emmy winning news stories. Ben was also honored by companies such as Ford and Red Bull in their portrayal of people making a difference in their communities through service-oriented jobs. Ben's 2014 coverage in Pilger, Nebraska during the Twin Tornadoes and in the 2017 Hurricane season was seen on multiple national networks including Fox News, CNN, and Seven Network Australia.
"Our job as journalists getting the word out is becoming just as important as the work we do as first responders on the ground," says McMillan. Communication is key and the more we learn about dangerous storms the better chance we have of mitigating their impact on our communities."
In his free time, Ben enjoys spending time with his family in Arizona, their horse and several dogs. Ben is also an aviation enthusiast who hopes to someday get his pilot's license, and loves being in the great outdoors.
BIO Tony Laubach:
Tony Laubach is a Meteorologist and a 20-year veteran storm chaser who chased his first tornado in his homestate of Ohio back in 1997 and has seen over 300 tornadoes in the years since. Laubach spent most of his career in Colorado before moving to southern Illinois where he continues his chasing ventures as the Weather Warrior for the ABC affiliate in Carterville, Illinois. While in Colorado, Laubach chased storms for Channel 7 in Denver and was part of an Emmy Award-winning special with the channel.
Laubach was a full-time participant in TWISTEX, a field research team founded by Tim Samaras. Laubach was responsible for taking instrument readings from supercells in a mobile mesonet, often intercepting tornadoes at close range to take data on the RFD region of tornadic supercells. Laubach was featured with TWISTEX on three seasons of the Discovery Channel TV series, "Storm Chasers", as well as specials on the National Geographic Channel and other TV networks. On his own, Laubach's severe weather footage has been seen around the world on just about ever major news network.
Outside of weather, Laubach is an avid Martial Artist, a better-than-average bowler, and a high level Pokemon Go trainer.
Tony 'Lubacca' Laubach, KWØLFF
NEWS Story about The tragic deaths of Tim Samaras, his son Paul Samaras and colleague Carl Young >>>>>>> LINK
Storm chaser Tim Samaras (right), his son Paul Samaras (left), and his longtime chase partner Carl Young (center left) were killed on Friday when an EF-3 tornado ripped through El Reno, Oklahoma. The three are pictured with fellow storm chaser Tony Laubach who confirmed their deaths on Sunday.
Tim Samaras, Applied Research Associates, Denver, Colorado.
"Tornado Research - Putting a Data and Video Probe into the Path of a Tornado".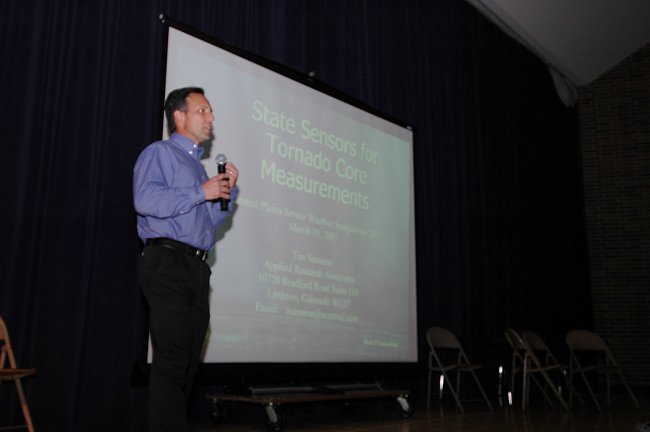 Image by Brett Hampton
Tim Samaras, Applied Research Associates, Denver, Colorado.
"Tornado Research - Putting a Data and Video Probe into the Path of a Tornado".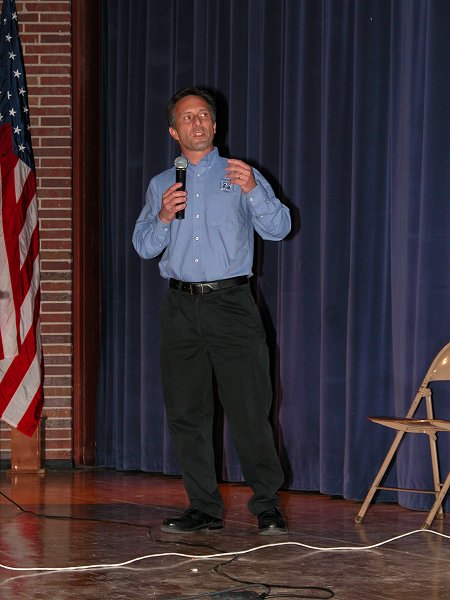 Tim Samaras, Applied Research Associates, Denver, Colorado.
"Tornado Research - Putting a Data and Video Probe into the Path of a Tornado".
_____________________________________________
2:30pm - 4:30pm, Presenter: Brian Smith

"Storm Fury 2018"
Lancaster County Offcial Storm Spotter Trainning Workshop
AFFILIATION: Warning Coordination Meteorologist, NWS, Omaha/Valley

This Storm Spotter Training Workshop is the official training session for our Lancaster County Storm Spotters. However, even if you are not one of the county storm spotters, we highly encourage you, your family and your friends to attend and to become better prepared for the severe weather that visits our area. There will be many interesting videos and photos shown by the speaker.

The Auditorium at Nebraska Innovation Campus Conference Center.